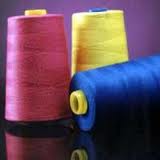 JATTASHANKAR INDUSTRIES LIMITED, is one of the leading manufacturer of Polyester Dyed Yarn in India. Company is catering to diverse requirements of Synthetic Yarns consumers, for the end use like:
Woven Fabrics - Suitings, Shirtings, Sarees & Dress materials.
Hosiery & Knitwear.
Furnishing & Upholstery fabrics.
Narrow Fabrics – Labels, Laces, Tapes & Elastics.
Sewing Thread.
Industrial Fabrics.
Company possess the ability to supply quality yarn with consistent shades & also ensure quality standards, without compromising on input costs, making the name 'JATTASHANKAR INDUSTRIES LIMITED' synonym with highest quality dyed yarn in India. The organization has made a distinct reputation among buyers & the end users of synthetic yarn.